The Crisis of Cool – and Hybrid Haptics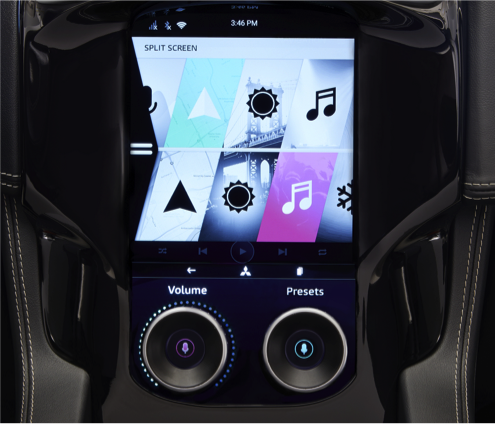 A modern user interface communicates through subtle shadings, gestures, interactivity, and animation. While a rich, visual design language is in demand for phones and desktops, it's not yet part of the automotive experience. Driver distraction concerns over the last several years have lead to today's simplified textures, high-contrast fonts, and static displays that fly in the face of the current UX paradigm, resulting in a stodgy, dated interface.
What can a car UX designer do to make cars cool yet still keep them safe? One approach is to use what we at Mitsubishi Electric call hybrid haptics: touch screens with tactile components.
A hybrid haptic begins with a physical knob, button, dial, or other tangible control. Whether the control is built into a screen bezel, attached directly onto a screen, or nomadically placed on various surfaces, a physical mechanism for a digital control takes advantage of our tactile nature. (Touch is the first sense we develop as infants and remains critical to our health and happiness throughout our lives.) By exposing select features through a fixed button or knob, a hybrid haptic lets users find frequently used functions instead of searching for them in levels of menus.
However, a hybrid haptic is much more than just a traditional push-button or dial – it's a physical control enriched with a touch screen (which can be either beside, underneath, or on top of the control) that displays its function, action, and state, and also allows for the control to be changed as circumstances dictate. Let's look at a few examples.
Probably one of the more intriguing applications of hybrid haptics is the Microsoft Surface Dial. While intended for consumer devices – rather than automotive – this handy little gadget shows what's possible with the creative use of a number of coordinating technologies. The freely placed Surface Dial connects to a tablet through Bluetooth, senses where it's placed, and interacts with applications to dynamically control content. For example, while working in a drawing application, a digital artist can rotate the dial and select a color rather than navigate through floating tool bars to make a color selection. While the technology is definitely cool, you're probably not going to see arbitrarily-placed dials around the interior of a car anytime soon.
Our next example is strictly automotive – it's a Mitsubishi Electric proof-of-concept in a Jaguar F-Pace demo car. To illustrate how hybrid haptics can make the car UX both more tactile and exciting as well as less distracting to the driver, we've mounted two large dials directly on the car's touch screen. These dials give a user control of common rotary functions – such as volume control, temperature adjustment, radio preset selection, and map zoom,– through simple voice commands. What's more, the dials can be reconfigured on demand as the user's needs change. Because the dials are mounted on the screen, the user still gets the physical sensation of turning them to directly engage with content – and because it's a touch screen, that content can dynamically change as needed.
Our last example is an OLED switch; this particular example is from the Art Lebedev Optimus Aux keyboard. These cool little devices are push buttons that have miniaturized screens on their faces. A handful of these rich graphical buttons could really liven up a center stack display while adapting to the user's whim or the current car context by showing new functionality when it's needed. Unfortunately we don't (yet) have a real-life example of these in use in automotive.
With hybrid haptics, you can really increase the cool factor, decrease the driver's mental workload, and create an overall superior user experience. What's not to like? To see these innovations in person, make an appointment to see us at CES 2018 in January.