INFOTAINMENT & CONNECTIVITY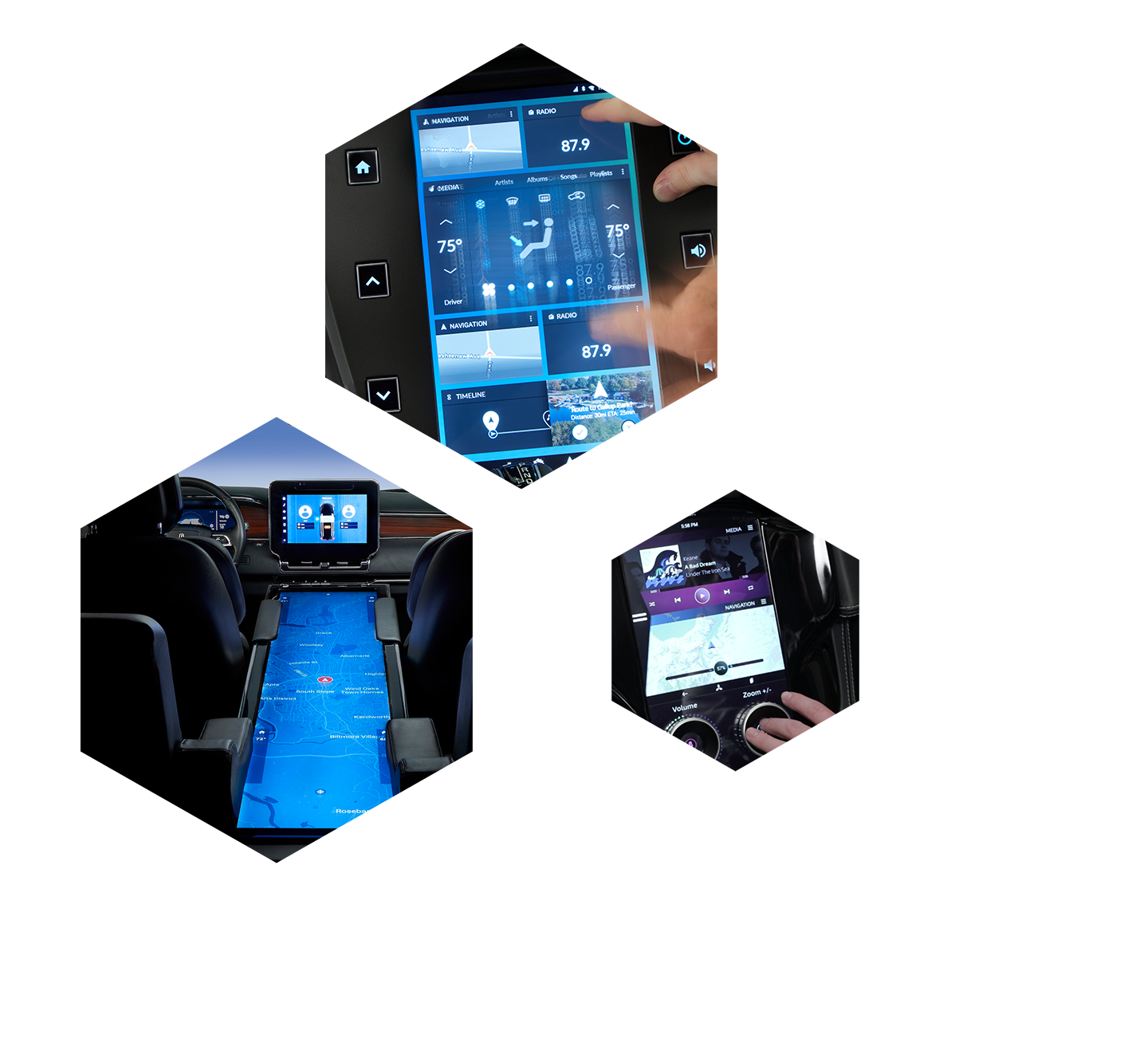 INFOTAINMENT & CONNECTIVITY
Setting the pace for in-car user experience solutions
Customer buying priorities continue to move away from the traditional strongholds of chassis and engine to the in-car user experience. To accommodate this shift and help you create brand loyalty, Mitsubishi Electric offers a wide range of solutions for infotainment, integrated cockpits, and rear-seat entertainment suitable for entry-level to premium models.
The power of accessing information and entertainment in the car has reached unstoppable momentum. As the best of these systems combine multiple leading-edge consumer technologies, it's important to partner with an innovative supplier that can draw upon a broad portfolio.
Architecture
Flexible multi-screen architecture that can drive instrument cluster, center stack, and passenger screens with a single System-on-Chip (SoC)
Unique passenger screen option that allows for a true co-pilot experience
Android-based platform, giving OEMs the power of the Android ecosystem and users the choice for in-vehicle apps
UX
Flexible design for personalized content that's easily configured using intuitive touches, swipes, and voice commands
Natural language interfaces with Wake-up-Words and biometric user identification
Full support for hybrid haptics — physical controls that incorporate context-sensitive graphical displays
Standard Features
Advanced navigation with turn-by-turn and support for all major navigation suppliers
Full smartphone integration with Android Auto and Apple CarPlay
Pre-integrated OTA support for updates to infotainment system and other ECUs and body modules
Integrated Cockpit Solutions
Safety
Hypervisor option that allows for a mix of safety levels on the same processor in order to integrate ADAS, autonomous, and cluster features
ADAS visualizations that intuitively present the autonomous drive system's state, sensor data, and obstacle categorization
Content that automatically adapts from large, high-resolution displays to distraction-sensitive instrument clusters
Rear-Seat Entertainment (RSE)
Rear-seat entertainment systems aren't getting replaced by personal devices – in fact, their growth is as strong as ever. That's because they are always available, they provide the cinematic feel missing in a handheld, and they give parents visibility and control over their kids' entertainment. Mitsubishi Electric offers the industry's most flexible and well-integrated solution, providing seamless co-existence with mobile devices, streamed content, Android Auto and Apple CarPlay support, portable gaming support, and much more.
Control
Driver/co-driver content selection and playback control
Customized automaker mobile applications for RSE interfacing and control
Full smartphone and tablet integration with Android Auto and Apple CarPlay
Content
Premium sound and cinematic feel with multiple size and resolutions up to 4K
Blu-ray optical media support for home video libraries
Ability to stream content using built-in or brought-in connectivity
Support for built-in apps and app marketplaces
Connections
Multi-screen content, gaming, and control through LVDS, eAVB, WiFi, and Bluetooth
Ports for USB charging, USB content, and HDMI/MHL displays
Headless design with charging ports and wireless streaming to support lower cost options for brought-in devices