MITSUBISHI ELECTRIC AUTOMOTIVE AMERICA, INC. TO GRADUATE FIRST, WELCOME NEXT CLASS OF PROJECT LIFE INTERNS
Focused on Providing Work Experience to Students with Cognitive Disabilities
MARCH 23, 2022, MAYSVILLE, KY – Over the past eight weeks, three students from the Southern Hills Career Tech Center in Georgetown, Ohio, traveled across the Ohio River four times a week to gain valuable, paid experience working alongside employees at Mitsubishi Electric Automotive America, Inc.'s (MEAA) manufacturing plant in Maysville, Kentucky.
The students – Zoe, Katie, and Justin – are participants in the Project LIFE® pre-employment training program for youth with cognitive disabilities. Butler Tech in Ohio developed Project LIFE to prepare high school students for the world of work. Students who participate in the two-year training program experience higher employment outcomes when they transition from school to the workforce.
With funding from the Mitsubishi Electric America Foundation (MEAF) – a funder that has invested in innovative programs that empower youth with disabilities for more than three decades – Butler Tech began replicating its Project LIFE model at career and technical schools in 2020 and 2021. Despite challenges presented by COVID-19, Butler Tech successfully replicated Project LIFE in 32 schools in the U.S. and Canada, which have provided training to more than 250 students to date.
As a socially responsible company, MEAA offered its facility as a work experience training site for Southern Hill's new Project LIFE program.
"We are excited to partner with Project LIFE and Southern Hills Career and Technical Center for this opportunity to provide work experience to prepare students with disabilities for a self-determined future," says Deborah Hampton, manager of Human Resources at MEAA. "Our associates have enjoyed working with Zoe, Justin, and Katie as they are exceptional to work with and they have embraced our work environment. We are looking forward to a strong partnership with Project LIFE."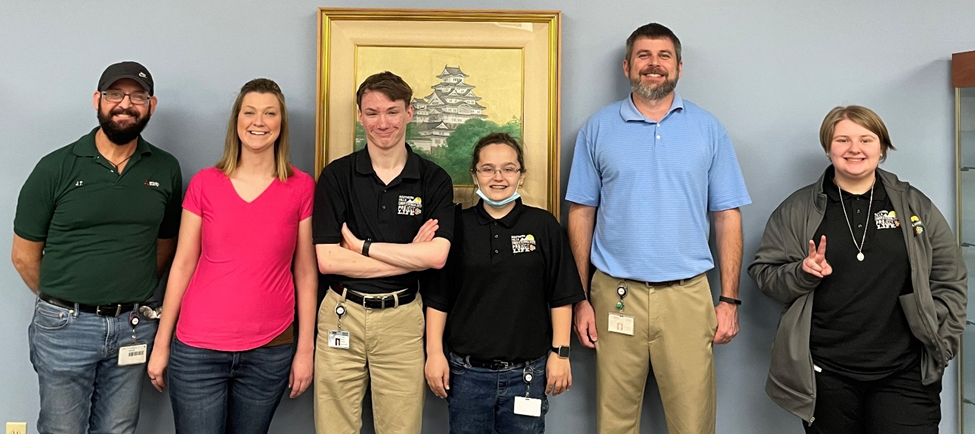 Justin, Katie, and Zoe completed their work rotation at MEAA last week. Mr. Adam Koenig, Sr. Manager, Operations, Maysville Plant, MEAA, presented certificates to the students at a ceremony held Friday, March 18th.
MEAA welcomed a new group of five paid interns from Southern Hills on Monday and is looking forward to working with them.
Butler Tech has received renewed funding from MEAF to continue its replication efforts and add CelebrateEDU microenterprise training to the Project LIFE curriculum. The microenterprise training curriculum will help students, particularly students in rural communities like Maysville, develop entrepreneurial skills to become more valuable employees or start their own businesses.
###
Contact:
Kevin R. Webb
Sr. Director, Mitsubishi Electric America Foundation
C: 703-276-8245
About Mitsubishi Electric Automotive America, Inc.
Mitsubishi Electric Automotive America, Inc., a U.S. affiliate company of Mitsubishi Electric Corporation, was established in 1979 to serve the North American automotive, heavy-duty truck and coach business. Mitsubishi Electric Automotive America, Inc. offers a wide range of products and services, including passenger entertainment systems, car navigation systems, screens, head units, amplifiers, and powertrain products such as starters and alternators. Additional information is available at: meaa-mea.com.
In addition to automotive electrical components, Mitsubishi Electric US group companies' principal businesses include semiconductor devices, factory automation products, cooling and heating products, elevators and escalators, electric utility products, space and sensing systems and large-scale video displays for stadiums and arenas.
About Mitsubishi Electric America Foundation
Mitsubishi Electric America Foundation, based in the Washington, D.C. area, was established in 1991 by Mitsubishi Electric Corporation and the Mitsubishi Electric U.S. companies, which produce, sell and distribute a wide range of consumer, industrial, commercial and professional electronics products. The Foundation has contributed more than $21 million to organizations that are empowering young people with disabilities to lead more inclusive and productive lives. To learn more, visit www.MEAF.org.
About Project LIFE
Project LIFE, developed at Butler Tech, is a comprehensive, multi-year transition program in which students develop, practice and strengthen skills that are high predictors of increased adult independence and successful, integrated employment in the community. Replication Video: https://youtu.be/b6NW8yP4YT4. To learn more, visit https://www.btprojectlife.org/about-project-life/.