Letting Urban Drones Do the Hunting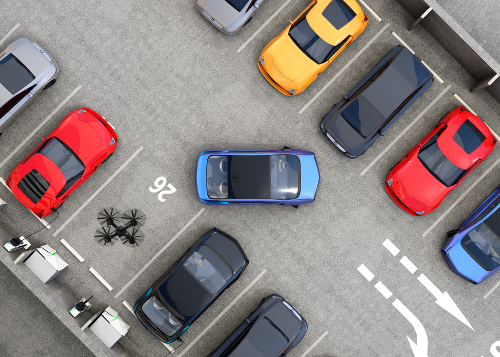 Nothing ruins a good trip – whether it's an amusement park visit for the kids, getting the jump on Christmas shopping, or attending a Roger Waters concert – more than prolonged hunting for parking. Tom Vanderbilt, the author of Traffic, thinks that parking lot circling regresses us to a primitive state, saying "The way humans hunt for parking and the way animals hunt for food are not as different as you might think."
At Mitsubishi Electric, we've made it our mission to deliver a premium user experience to everyone in the car. It's safe to say that the frazzled nerves and meaningless anxiety caused by parking lot stalking amounts to the exact opposite experience. So we started thinking, what if we could somehow use the car's infotainment system to help drivers calmly find and reserve the nearest open parking spot? We think we've got a solution: Drones tied to the in-car infotainment system. Urban drones, to be precise, that act as personal parking-lot scouts and attendants. Here's how it works.
As a driver approaches the entrance of a parking lot, the car's drone (which is docked on the roof of the car) takes to the air. It rises above the crowd of cars and, seeing that there are no open spots in the current lot, flies to the next. With its camera, the drone zooms in to see a car pulling out of spot #26. It sends video of the newly available space through a wireless link to the FLEXConnect.AI system in the car. At that point, the driver assays the proposed spot and clicks OK. The drone, having received the green light, flies down to the spot and hovers there to reserve it. Meanwhile, the nav system reroutes the car with a map and turn-by-turn directions to the safely held acquisition.
Imagine how much calmer people will feel with cars and drones doing all the heavy lifting? Make an appointment to visit our booth at CES 2018 in January for a demo that will actually make your customers look forward to their next mega-parking lot experience.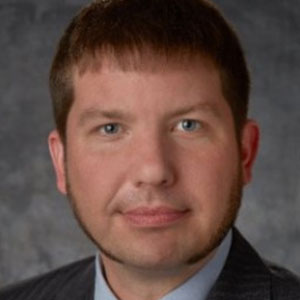 Gareth Williams
Opens an external website